As an avid gamer player I was drawn to escape rooms four years ago when I first heard about them. I love the interactive aspect and personal connections that occur as people work together to problem solve a situation, search for clues and communicate with one another to achieve a common goal. In today's cellphone environment I love to see people put them down and interact in new and exciting ways!
If you would like to book a corporate team building event during the day M – F, or you're in town on evenings we are closed give us a call we will try our best to accommodate you!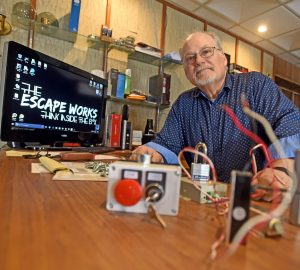 AMANDA MORRISON n WATERTOWN DAILY TIMES
Dave Maxon is opening an escape room biz on the
second floor of the Cleveland Building at 140 Stone St.
Escape works = Amazing time

Right from the start escape works provides an amazing atmosphere. The owner is great and very friendly. The time and dedication he puts into the details and story line really show with great puzzles and amazing details. Awesome rooms and tricks around every corner. Definitely a must if you're in the area. Will most definitely going again and recommending to everyone I know. Great job escape works and can't wait to see what great rooms you come up with next.


TripAdvisor, From
Watertown, New York